This past weekend was rainy as well, but the weekend before I was able to take a break and head over to Watson's Bay (in Sydney). It's an easy ferry ride from Circular Quay – if you catch the fast ferry it's about a half hour, with a stop in Rose Bay before Watson's.
I grabbed brunch at Dunbar House, which presents itself as very much a Colonial style Manor house. From the website, it looks like its restored from the 1880s, but there's no historical data provided on the website. Get your Interwebz game together, Dunbar House!
Anyway. Brunch. I chose brunch local based on the view. It had a pretty awesome view.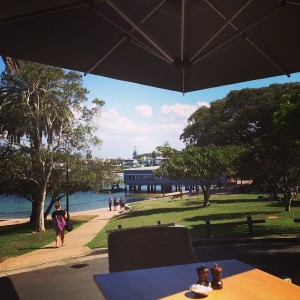 I was honestly suprised at the state of Watson's Bay when I arrived. I expected much more…beach, and less park. Brunch was good, I had banana pancakes – it seems everywhere I go for brunch I have pancakes – no judging. These ones were banana-topped pancakes with a huge dollop of what I was unsure was either butter or some sort of sweet cheese…it was slightly overcooked – not dry, but a little too browned. I enjoyed the dish as a whole, though if I went again I may get something lighter. I sat and read for a little at my table, but there were still people coming to eat, and I had to wait for a table myself, so I didn't linger too long.
I decided to head over to Camp Cove beach which was maybe a 3 minute walk from the ferry wharf. It was a relatively small beach, and not too busy, which is a nice comparison to Bondi or even Tamarama. I couldn't sit still, though. I didn't bring a chair, so I sat for a bit against the seawall and read. Got restless, and I started getting hot, so I picked up and went to perch on the rocks that were technically a part of the nearby park – and also in the shade.
For all that I'm starting to appreciate beaches, at the bottom of things…I don't know how much of a beach person I can turn into – I think I have too much Northeast in me.
Hopefully this coming weekend will be sunny and I'll be able to have some adventures, or find a way to motivate myself out of my apartment and my sweats if we're in for another rainy weekend here down under.