As my friend who came with me yesterday put it, yesterday couldn't have been a more perfect day. It was the perfect mix of activity, relaxation and never the need to look at a watch. A perfect planned unplanned day; a rare occasion.
As two American expats we started off the day playing tourist by traveling to Palm Beach via seaplane from Rose Bay with Steve at Sydney by Seaplane. It was definitely not cheap, at $295 pp one way (and a bit less expensive per person if you opt for the return, but there was only a 3-hour gap between arrival and departure and we figured we would want to stay more). It's one of those things you should do once in your lifetime, though – and we had a perfect day for it. Sunny, clear and about 30C or 90F. Great weather for flying.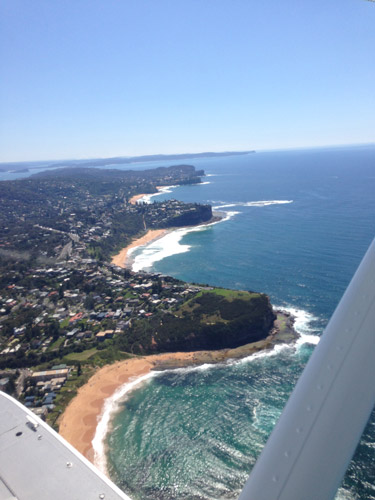 Upon arrival to Palm Beach, I vociferously decided that I wanted to "get the hard part over with" and that we should climb up to the lighthouse first. I'm glad I made that call, because by the time we got down I was starving, and if we had done the climb after we ate I probably would have been food coma'd out. Anyway. There were lots of steep bits in the climb that my exercise-induced asthma was none too happy with, but I didn't bitch too much, so I considered that a win. We also got some pretty incredible views of Palm Beach: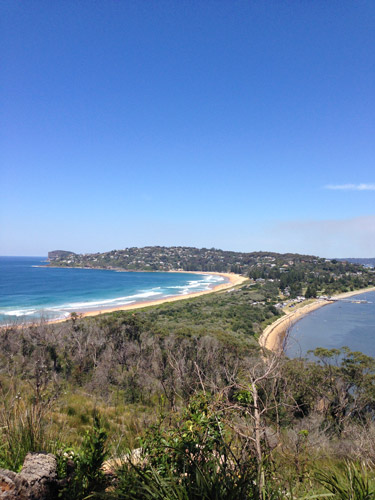 The beach that we arrived on was the side without all the breaking waves, and I have to be honest: I was a little concerned we came all this way. The high tide line was full of seaweed, and swimming wasn't exactly appealing. But then I got up to this height and realized all the beachgoers were actually on the other beach, the one that actually had waves and was seaside, not habourside. The hike up probably took about 15-2o minutes, with frequent "photo" stops where yes, I took photos, but it was mostly so I could catch my breath. Down – 10 minutes. I'd say it's worth it for the views…and to beat your friends if you're counting steps with fitbit or up like I am.
We ate after the hike. Because hiking. Went to the Boathouse, which was conveniently located on the pier we came in on. It was about 1:30 when we joined the queue to order, or maybe 1, and the place was consistently busy. I wasn't overly impressed with the food for the price – $24 for a bacon cheeseburger; I'd say it was average. My friend, on the other hand, got a quinoa avocado rocket salmon salad which she said was great with the salmon perfectly cooked and would be perfect if they added kale. If you go, choose your items wisely then.
After a late lunch we headed over to the beach. The water was a little chilly, but I adjusted fast, and actually went in the water. Crazy, right? Otherwise I lay down and read, trying not to burn too easily, being a little OCD with my sunscreen application as I had no hat or other form of shade.
After a few hours on the beach where I realised I was slowly becoming a beach person we walked (uphill, again) to the Barrenjoey Hotel where we got drinks and dessert before heading back into Sydney.
I really liked the Barrenjoey – reminded me a lot of the Bahamas – very laid back, chill, cigar lounge kind of vibe: think dark woods, leather, teak and good music. Both my friend and I got a Pimms classic, which is like sangria, but not.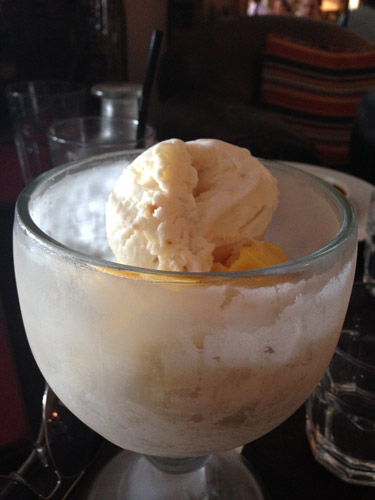 For dessert my friend got creme brulee and I wanted something light, so I went with sorbet. Well, I got a legit goblet of my requested mango sorbet and honey toffee ice cream:
This massive goblet of cold amazingness prompted the very first world problem statement from me of: "this goblet is so cold it's making my hand hurt," which would have been a great overheard, in my humble opinion.
After getting over my first world problems and eating my ice cream and sorbet, we went out to the park on the other side of the road any enjoyed the sun for a bit before catching the 1.5 hour bus back to Sydney. This is what we watched:
Remember to take days and enjoy them. Don't look at your phone all the time, forget what time it is and just enjoy the day in front of you for what it is. Don't be afraid of silence and getting to know yourself. Breathe.